Surrey Re-Enactors
2016/10/01 (Saturday)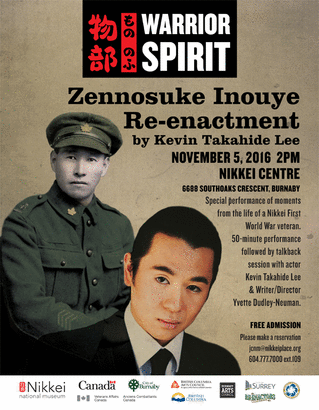 The City of Surrey, Heritage Services and the Nikkei National Museum & Cultural Centre presents a re-enactment of Zennosuke Inouye's life story portrayed by Kevin Takahide Lee. Join a special performance of moments from the life of a Nikkei First World War veteran. 50 minute performance followed by talkback session with actor Kevin Takahide Lee** & Writer/Director Yvette Dudley-Neuman**.

Zennosuke Inouye was a prominent Surrey businessman, chauffeur, and veteran of World War One. After the war, he purchased 80 acres of land in Strawberry Hills through the Soldier's Settlement Board and built a pioneer homestead. He was President of the Surrey Berry Growers' Association and a volunteer at the Japanese Language School. During World War Two, he and his family endured the hardship of the internment camps and the repossession of his farmland, profitable business and home. He wrote 80 letters to government offices and ministers, fighting to regain his land. He is the only Japanese Canadian war veteran to have his land returned to him.

This theatrical presentation is part of the City of Surrey's Heritage Re-Enactment program.