New Korean Program on AM1470 and 96.1 FM
2022/03/30 (Wednesday)
NEW KOREAN PROGRAM ON FAIRCHILD RADIO!
MEN ON AIR
SATURDAY 12:00 PM - 1:00 PM
AND
SUNDAY 8:00 AM - 9:00 AM
If you like K-pop culture or K-pop music, don't miss "Men On Air", a bilingual Korean-English program that just landed on Fairchild Radio this March and is now airing on FM961 every Saturday at 12pm, and on AM1470 every Sunday at 8am. The show is a music-based magazine-style program with an energetic beat and packed with Korean and English pop songs, celebrity interviews and tons of entertainment! Even if you don't speak Korean, you can still understand most of the program as two hosts, Hee-jun Han and Greg Priester, speak both Korean and English on air. Listening to "Men on Air" is also a great way for Korean speakers to learn more English!
Created and produced by TBS e-FM in Seoul, Korea, the original "Men on Air" program is aired on TBS e-FM 101.3 Monday to Sunday from 5pm to 7pm (Seoul time) with different themes and segments every day. The program rebroadcasted on Fairchild Radio is an edited condensed version.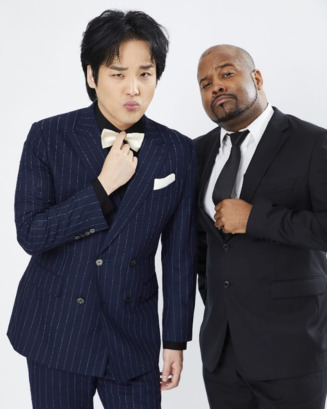 Since the show is called "Men On Air", the biggest attraction is naturally the two male hosts. Born in Anyang City, Gyeonggi Province, South Korea, Hee-jun Han moved to New York with his family when he was 12. In 2012, when he was working as an event organizer for children with special needs, he was deeply touched by the children's perseverance and positive energy. It inspired him to apply for the audition of American Idol and his decision surprised his family and friends, for they had never heard Hee-jun sing in public before. However, once he started singing, everyone was in awe of his natural talent. Hee-jun had a successful run on American Idol, making it all the way to the finale, earning himself the 9th spot of the whole season. He was highly praised by judges Jennifer Lopez, Steven Tyler and Randy Jackson, and even got a standing ovation from the entire judge panel with the song "A Song For You". He was also the first Korean contestant in the show's history to reach the finale.
After moving back to Korea, Hee-jun participated in "Kpop Star 3" and later debuted as a composer and singer-songwriter. The Korean group BTOB's "You Can Cry" is one of his works as a co-composer, and his latest single "Tuesday" was released this February with fabulous reviews. Now, in addition to writing music and singing, Hee-jun keeps himself busy by hosting "Men On Air", providing two hours of music and entertainment everyday to the foreigners living in Korea as well to the Koreans who want to learn more English.
As for the other "man on air", Greg Priester is an American who has relocated to Korea. Greg was born in South Carolina and very shy as a child, but he admired the way his father sang at church, so he wanted to be a singer when he grow up. To his surprise, his father was not at all impressed by his plan, telling him not to daydream, but find a regular job and live a stable life. After working at two jobs to make ends meet, Greg decided to travel a bit and visited several Asian countries before landing at Seoul, Korea, the place he decided to settle down. Greg began working as an English instructor in Seoul and learning Korean at the same time.
Seoul is an international metropolis with people from all corners of the world. Greg quickly found like-minded friends and began to sing again. He and his friends even participated in a talent show called "Superstar K". One day, after Greg's clip of singing a Korean ballad was aired on TV, he found himself an internet sensation. Many people imitated the way he sang, even members of EXO, BTS and Wanna One imitated him on variety shows. Since then Greg's music career took off. He started a YouTube channel and regularly covers songs from other artists and now the channel has more than 400,000 subscribers. He has also released five singles, one of which was in Korean. Now Greg is active on television variety shows as well as hosting "Men On Air".
Hee-jun and Greg are both fun people with a passion for music and pop culture. They frequently interview celebrities and iconic people in Korea, including Anupam Tripathi, the actor who played Ali in "Squid Game".
Stay tuned to "Men on Air" on FM961 and AM1470 and see who Hee-jun and Greg will interview next!