Farewell to Latino Soy Host Eduardo Olivares
2023/01/11 (Wednesday)
It is with heartfelt sorrow we announce the passing of our beloved friend and colleague, Eduardo Olivares. After a long career in radio serving the Latino community of Vancouver, Eduardo encountered some health problems in his later years and passed away on December 27, 2022, at the age of 81, surrounded by family and close friends. Eduardo had just celebrated 25 years with CHKG 96.1FM, Fairchild Radio hosting the Latino Soy program, after having previously hosted the same program on CJVB AM1470, from 1993 to 1997, for a total of 29 years on the air. He will be profoundly missed by all of us who worked closely with him, the many listeners and volunteers of his radio show and of course his beloved family and friends.
| | | |
| --- | --- | --- |
| Eduardo in Chile, age 17 | | Eduardo at Mineria Radio, 1968 |
Born in Ovalle, Chile in 1941, Eduardo spent the early years of his career as a freelance broadcaster, eventually getting his own show at a small radio station in Chile in 1962. When the government that authorized the radio station was overthrown in 1973 by dictator Augustus Pinochet, Eduardo was arrested for working there. Due to the oppressive political climate of the time, where citizens were routinely jailed and tortured for their beliefs and affiliations, Eduardo suffered the fate of many radio broadcasters and was imprisoned, tortured and eventually exiled from his homeland.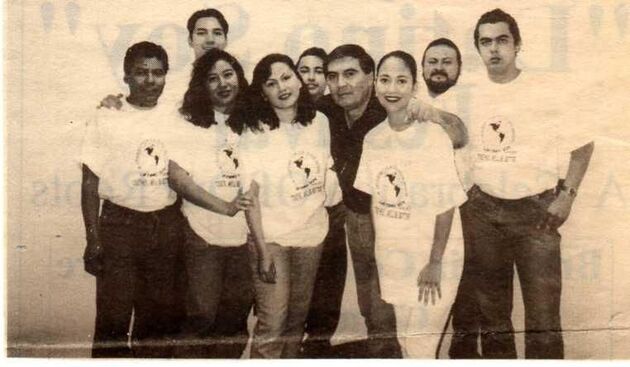 Eduardo with the Latino Soy team in the early days.
In 1978 he arrived in Saskatoon, Saskatchewan with his then wife Irma and four children, Mariutza, Rosana, Eduardo Ivan and Ivania. After moving to Vancouver in 1992, and with the encouragement of family and friends, Eduardo returned to radio and with the support of volunteers and collaborators, created a radio program designed to unite Vancouver's growing Latin American community. The show also provided a much needed platform for newly arrived immigrants to get information and support and connect with others through their common culture and identity. The show was first aired on CJVB AM1470 under the name "Latino Soy" which means "I am Latino".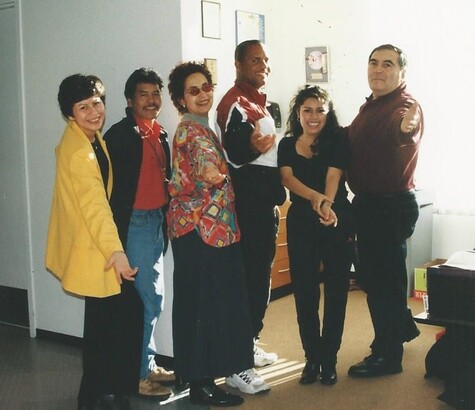 Eduardo with the team of collaborators who helped shape the Latino Soy program in the nineties.
In 1997 the program moved to Fairchild Radio's CHKG, where it has been broadcast on 96.1 FM every Monday – Friday from 11:00 am to 1:00 pm for 25 years. During that time, Eduardo succeeded in engaging the Latino community of Greater Vancouver and beyond, presenting local talent, delivering the news from Latin America and playing both new Latin music and the old favorites of Latin music lovers of all ages. Until February of 2020, Eduardo never missed a day of coming into the studio to broadcast the show. Then when the COVID-19 pandemic hit and in order to protect his health, he passionately continued on with his beloved program from home until the beginning of December 2022.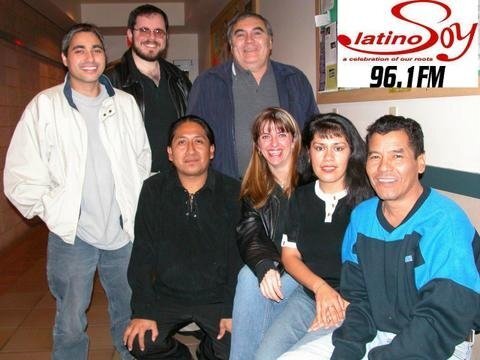 Eduardo with the Latino Soy team in the early 2000's.
Through the combined efforts of his team of volunteers and members of the community, Eduardo's mission of serving the people through radio thrived for almost three decades, helping talented local artists launch their artistic careers, bringing attention to important issues in Latin America and aiding new immigrants in finding support to establish themselves in Canada. For most of those years, Eduardo and the team of Latino Soy volunteers organized the Latino Soy Festival, where artists who had been promoted on the show could have the opportunity to perform live in front of their radio audience and Latin dance groups and teachers could showcase their skills. But mostly the Latino Soy Festival was a place where the community could celebrate their Latin identity and share their vibrant culture.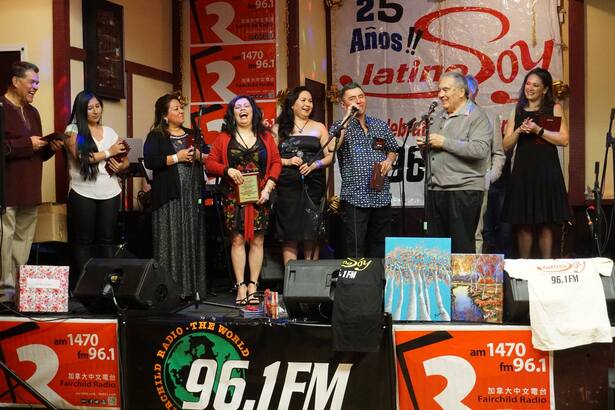 Eduardo and the Latino Soy team celebrate 25 years on the air at the Latino Soy Festival.
Eduardo also organized the Latino Soy Children's Festival as a way of instilling cultural awareness, identity and social values in the youth. While young people were given opportunities to perform, learn about their culture and celebrate their talent, the festival also raised money to aid and support children in Latin America through charitable organizations, which included Fraternity of Help to Guatemalan Children, Renaissance Children of Haiti, Capys Chile and many more.
| | | |
| --- | --- | --- |
| Young performers at the Latino Soy Children's Festival | | |
In 2002, Eduardo was recognized for his outstanding and exemplary contribution to the Latin community and to Canada as a whole, when he was awarded the Queen's Golden Jubilee Medal. The award was presented by Libby Davies, then MP and Jenny Kwan, MP for Vancouver East.

| | | | | |
| --- | --- | --- | --- | --- |
| Eduardo displays his award with daughter Ivania | | The Queen's Golden Jubilee Medal | | Eduardo with Libby Davies and Jenny Kwan who presented him with the award |
Eduardo Olivares was a unique individual who was dedicated to using his voice to raise up the Latino community and help those most in need. He helped dozens of non-profits to achieve their fund-raising goals, promoted local businesses and encouraged artists by promoting their work. With his consistent presence over the airwaves in Canada for almost thirty years, he will be greatly missed. His legacy lives on through the thriving Latin community in Vancouver, which he helped shape and the Latino Soy radio program, currently run by his daughter Ivania and a group of dedicated volunteers.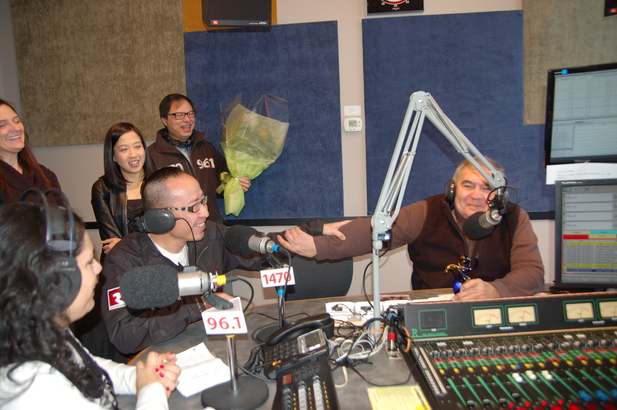 George Lee, President of Fairchild Radio Group (seated on the left), surprised Eduardo during his live program in 2012 to congratulate him for being on 96.1FM for 15 years.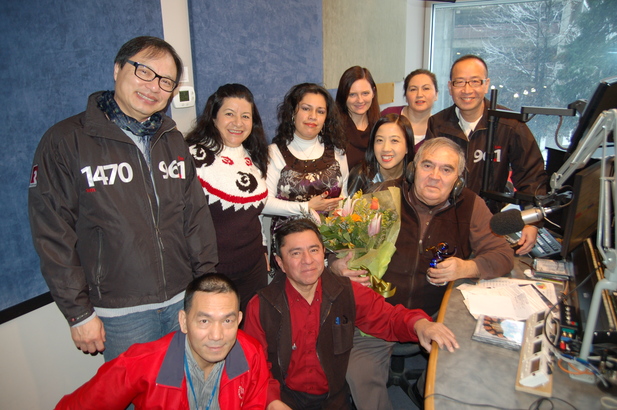 On top of the bouquet, Eduardo was presented a blue crystal trophy (in Eduardo's hand), plus lots of love and support from his colleagues.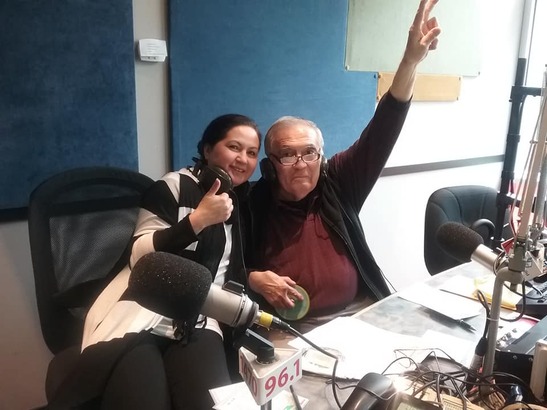 Eduardo and his daughter Ivania, broadcasting Latino Soy from the 96.1FM studio at Fairchild Radio in Aberdeen Centre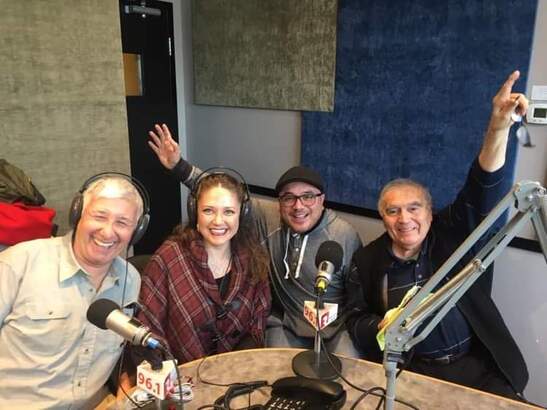 Eduardo with the current collaborators of Latino Soy.
A Celebration of Life for Eduardo will be broadcast over Facebook Live on Friday, January 27th, 2023 at 6:30 pm on the Latino Soy Facebook Page.