Hot Topics 娛樂追蹤
DVD 請你看好戲 《THOR: RAGNAROK》
2018-03-07 (星期三)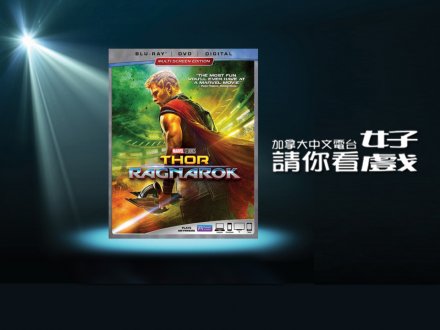 留意 AM1470 & FM961 電台節目, 贏取 THOR: RAGNAROK Blu-ray | DVD | Digital 套裝。Listen to AM1470 & FM961 for your chance to win THOR: RAGNAROK Blu-ray | DVD | Digital combo.
遊戲日期 Game period: March 7 - 13, 2018.
遊戲熱線 Game hotline: 604-271-1470 (AM1470) & 604-295-9616 (FM96.1)。
THOR: RAGNAROK
Marvel Studios' "Thor: Ragnarok," the God of Thunder's third installment in the Marvel Cinematic Universe, electrified both audiences and critics alike reaching over $845M at the global box office. Now the colorful cosmic adventure, loaded with action, humor, drama and spectacle, has burst into homes Digitally in HD and 4K Ultra HD and on 4K Ultra HD™, Blu-ray™, DVD and On-Demand.
Fans who bring home the Ultimate Cinematic Universe Edition (4K Ultra HD + Blu-ray + Digital) of "Thor: Ragnarok" will experience all the thunderous action and lightning-fast wit in stunning 4K Ultra HD with next-generation high dynamic range (HDR) visuals and Dolby Atmos immersive audio. Exclusive, never-before-seen bonus features include deleted scenes; hilarious outtakes; an exclusive short: part three of the mockumentary "Team Thor," retitled "Team Darryl" and featuring an eccentric new roommate; the evolution of MCU's heroes culminating in "Avengers: Infinity War;" numerous making-of featurettes which explore the unique vision of director Taika Waititi; the story's unstoppable women; the effortlessly charismatic Korg; the tyrannical leader of Sakaar, the Grandmaster; and the film's comic-book origins; audio commentary by Waititi; and more.