What's On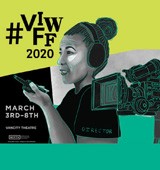 Vancouver International Women in Film Festival
2020/03/04 (Wednesday)
The Vancouver International Women in Film Festival celebrates contemporary cinema created by women. Showcasing a diversity of storytellers and genres from home and from around world, the festival challenges both gender stereotypes on screen and the lack of inclusivity behind the camera.
This six day festival is organized by Women In Film and Television Vancouver, a member-driven not-for-profit society which addresses systemic barriers to self-identifying women's equal participation in the production and dissemination of screen-based media.
In addition to film screenings, the festival offers Artist Talks (free), VR experiences (free), post screening discussions and workshops.
Visit viwff.ca for details.