Eduardo Olivares: 25 Years of Latino Soy!
2018/11/14 (Wednesday)
This year, Fairchild Radio's Spanish speaking program Latino Soy celebrates 25 years on the airwaves. Hosted by Chilean native, Eduardo Olivares, Latino Soy has served the Latin American communities of Greater Vancouver in a number of different ways from helping new immigrants settle into their new life in Canada, to giving new artists the chance to share their work. In addition, Eduardo has helped raise thousands of dollars for various causes in Latin America. Whether it be relief for a natural disaster or building a school in a poor rural area, the team at Latino Soy is always ready to step up to the plate to help those in need, guided by Eduardo.
| | | |
| --- | --- | --- |
| Eduardo Olivares in Chile in 1968 | | |
Eduardo was born in the small town of Ovalle, 500 kilometres north of Chile's capital Santiago. As a young man in his twenties he began his radio career working in a radio station as a freelancer. It was the early sixties and Chili was steeped in political turmoil until 1973 when a coup détat overthrew the government and dictator Pinochet came to power. Under the new regime the radio station that Eduardo worked for was deemed "illegal" and he was subsequently imprisoned and tortured.
Exile followed and in 1978 along with his family, Eduardo arrived in Saskatoon, Saskatchewan where his desire to continue in radio broadcasting never dissipated. When he arrived in Vancouver in 1993, he was a father of four, grandfather of 13 and great grandfather of 16! He was encouraged by his family and friends to start up a Spanish speaking radio program aimed at integrating the various communities of the different countries of Latin America. Thus, Latino Soy was born, which means I am Latino.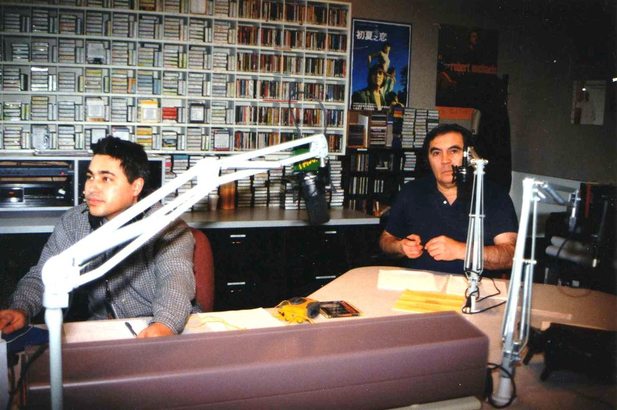 The early days at 96.1FM at Fairchild Radio on Cambie Street with DJ Gary
Latino Soy first started out on AM1470 CJVB, sister station to 96.1FM CHKG, which is where the show can now be heard every Monday to Friday from 11:00 AM to 1:00 PM. Eduardo's original vision of integrating a very diverse and rapidly growing and evolving Latin American community made up of many countries has certainly manifested and in doing so has enriched the lives of many over the years.
Besides promoting and celebrating Latin American cultural roots and values with contemporary and traditional music genres, Latino Soy also promotes its ever evolving and developing community's wide range of activities in all fields of endeavors and initiatives including education, sports, culture and politics. In addition, the team at Latino Soy puts on a festival every year in Vancouver which showcases local Latin talent and brings the community together for food, music and fun. This year's event takes place at the Alpen Club on Saturday, November 24th.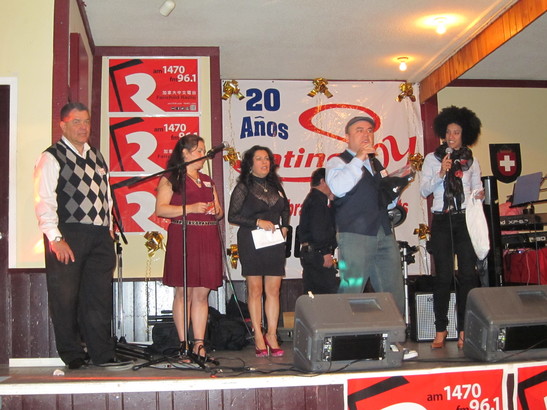 Latino Soy Festival
Latino Soy has also been instrumental in bringing together this ethnic community by instilling awareness and ongoing solidarity in the helping of poorer countries back home, which sporadically go through natural disasters and other debilitating turmoil.
By itself and alongside many organizations with similar aims and objectives, Latino Soy has, since its inception, raised support and aid for disaster relief to numerous people in various regions of Latin America.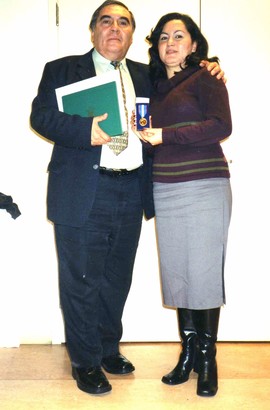 Eduardo awarded with the Queen's Golden Jubilee Medal (shown with daughter Ivania)
In 2002, Eduardo's outstanding efforts were recognized when Governor General Adrienne Clarkson presented him with the Queen's Golden Jubilee Medal, awarded to Canadians who are exemplary in their service to others. Since he began his Vancouver radio program 25 years ago, Eduardo and his team have helped raise money to aid flood victims in El Salvador, hurricane victims in Honduras, children in need of schools and hospitals in Guatemala, and people in need of medical supplies in wartorn Columbia.
Eduardo has expressed on several occasions that "Radio or any form of media's main goal should be dedicated in some form or another to helping one's community, its development and its people." Today, after 25 years of doing community radio, this sentiment still rings powerfully true.
To find out more about Latino Soy check out their Facebook Page here or listen to Latino Soy on 96.1FM Monday to Friday from 11 AM to 1 PM.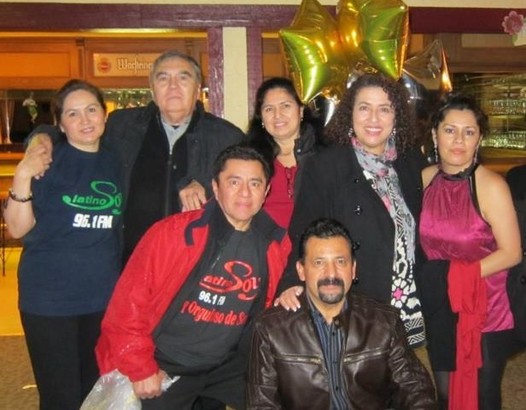 Some members of the Latino Soy team
In addition to having worked with some prominent Latin American Organizations in Vancouver, including PCSur/Vancouver South Cultural Project (PSur), Vancouver Latin American Cultural Centre (VLACC), LatinAmerican Cultural Centre of BC (LACC BC), Celsan Vancouver, Spanglish and more, here are just some of the groups that put on fundraisers which Latino Soy was involved over the years:
Fraternity to Help to Guatemalan Children
Renaissance Haiti Orphan Society
Capy's Chile
The Proyect "A Ray of Light, a Smile"of Mexico
Escuela #125 of Montevideo
Club Uruguay of Vancouver
Friends of Cuba Society
Society Friends of Acajutla from El Salvador
Foundation Women for Unity of Esteli, Nicaragua
Vancouver Children's Hospital through the Canadian Red Cross
Displaced children of civil war in Colombia through the Canadian Red Cross
Hurricane Ida Relief Radiothon of Hope
Salvadorean Canadian Solidarity Council of Vancouver
Radio P'ayumat and Pueblo Nasa in Cauca, Colombia
Casa Hogar Niños Felices of Olanchito, Honduras
Vista Hermosa Community in Ixcán, Quiche, Guatemala
Colonia Santa Maria School Centre in El Salvador by Hermano Solidario
Los Compadres Society of BC
Sombrero Azul Fraternity of Vancouver
Chile's 2010 Earthquake Fundraiser
Disaster Relief Fundraising Event to Aid Victims of Fires in Valparaiso, Chile