Winter Holidays
2020/12/01 (Tuesday)
Christmas: celebrated all around the world, Christmas falls on December 25th each year to celebrate the birth of Jesus Christ. The word "Christmas" literally means "Christ's Mass," and is a feast central to the Christian liturgical year. Furthermore, it is a civil holiday in many of the world's nations and an integral part of the Christmas and holiday season. Celebratory decorations typically include "decking the halls" with holm, ivy, and other greens, and nativity scenes are popular in several countries. And of course, a Christmas tree decorated with lights and ornaments is usually a staple to the house, particularly in the United States.
Kwanzzaa: This is a week-long holiday celebrated in communities in the United States and Canada, as well as in the Western African Diaspora to honor African heritage in African-American culture. Created by Maulana Karenga in 1966, it is observed from December 26-January 1, and ultimately ends with a feast and the exchange of gifts.
There are seven core principles that are celebrated during Kwanzaa, including unity, self-determination, collective work and responsibility, cooperative economics, purpose, creativity, and faith. Celebration of Kwanzaa can include colorful household decorations with art and African cloth, readings and reflection of the African Pledge, and a candle-lighting ceremony with a kinara (which holds just two less candles than the Menorah!)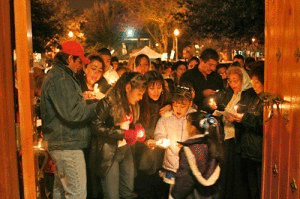 Las Posadas: With its origins in Spain, Las Posadas is a nine-day celebration that is now primarily celebrated in Mexico, Guatemala, and parts of the Southwestern United States. The roots of this holiday are in Catholicism but several different branches of Christian Latinos follow the tradition. During the celebration, a procession moves from house to house with a candle inside a paper lampshade, stopping at each home to sign and pray. Eventually, the procession ends at a home or church, and the celebration continues with caroling, feasting, and pinata breaking!
For more winter holidays check the United Planet Blog here.